New York City, also called the "Big Apple," is a lively place full of culture, history, and exciting things to explore. We know it's not easy to find free things to do here, but don't worry! We've put together a list of fantastic activities that won't cost you anything.
We'll show you how to enjoy free and exciting activities in New York City without spending any money. Let's begin our affordable adventure!
Free Things to do Near me, New York
1. Exploring Central Park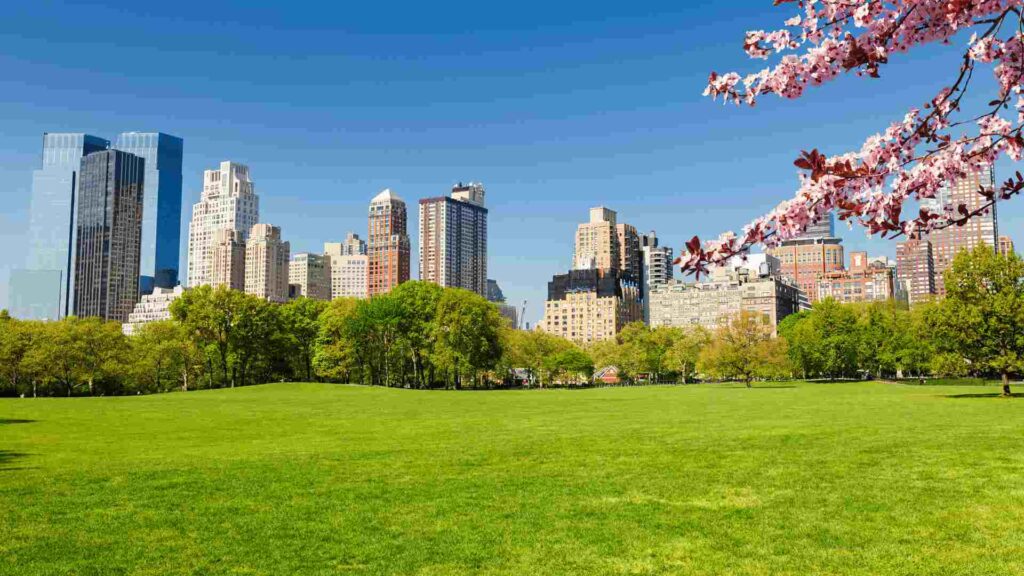 Central Park, located in the heart of Manhattan, is a sprawling oasis offering a wide range of activities. You can take a leisurely walk through the scenic landscapes, have a picnic, rent a rowboat, or simply people-watch.
Free Activities: Central Park hosts a variety of free events and activities throughout the year. Check their official website for information on concerts, yoga classes, theater performances, and guided tours, which are often open to the public at no cost. Participating in these events not only allows you to explore the park but also provides you with a unique and enriching experience.
Address: Central Park, near 5th Avenue and East 59th Street, New York, NY 10022, United States.
2. Visit the Metropolitan Museum of Art
The Metropolitan Museum of Art, also known as the Met, offers free admission during certain hours and days. Explore its extensive collection of art, spanning from ancient civilizations to contemporary masterpieces. Don't miss the opportunity to immerse yourself in art and culture.
Free Tip: Typically, these free hours are on Friday and Saturday evenings, but it's best to check the museum's official website for the most up-to-date information on free admission times. Plan your visit accordingly to take advantage of these opportunities.
Address: Metropolitan Museum of Art, 1000 5th Ave, New York, NY 10028, United States.
3. Walking Across the Brooklyn Bridge
Crossing the iconic Brooklyn Bridge is an experience like no other. The pedestrian walkway provides breathtaking views of Manhattan and Brooklyn. It's a perfect spot for photography and a scenic stroll. While strolling across the bridge, keep an eye out for street performers, musicians, and local artists who often display their work.
Tips: Visit the Brooklyn Bridge early in the morning or during the late afternoon to enjoy the best lighting conditions for capturing the city's iconic skyline.
Address: Brooklyn Bridge, Intersection of Tillary Street and Adams Street, Brooklyn, NY 11201, United States.
4. Strolling Through Times Square
One of the best ways to experience Times Square is by simply observing the lively crowd and the dazzling billboards. Find a spot on the iconic red steps above the TKTS booth, and you can take in the spectacle without spending a dime.
Free Events: Times Square often hosts open-air concerts, street performances, and public art displays.  Times Square offers free public Wi-Fi, which can be a helpful resource for staying connected, checking maps, and sharing your experiences with friends and family.
Tip: Consider visiting late at night or early in the morning when it's less crowded.
Address: Times Square, near Broadway and 7th Avenue, New York, NY 10036, United States.
5. Enjoying the High Line New York
The High Line is a unique urban park built on an old railway track. It offers stunning views of the city, greenery, and art installations. You can take a leisurely walk and admire the city from a different perspective.
Tip: The High Line goes through Chelsea and the Meatpacking District. After you're done walking on the High Line, go check out these areas. You'll find cool art places, small unique shops, and tasty places to eat. It's a fun way to make your day longer and get into the local scene.
Address: High Line Park, near 820 Washington St, New York, NY 10014, United States.
6. Visiting the 9/11 Memorial
The 9/11 Memorial honors the memory of those who lost their lives in the tragic events of September 11, 2001. The memorial is free to visit and provides a solemn and reflective experience.
Tip: While there is no admission fee for the 9/11 Memorial itself, it's a good idea to reserve free visitor passes in advance through the official website.
Address: National September 11 Memorial & Museum, 180 Greenwich St, New York, NY 10007, United States, near the World Trade Center site in Lower Manhattan.
7. Exploring Grand Central Terminal
Grand Central Terminal is a bustling hub, and it costs nothing to simply sit and watch the world go by.
Find a bench or perch near the Main Concourse and observe the fascinating mix of commuters, tourists, and artists. You can witness live performances, art exhibitions, and various events taking place in the station. It's a unique way to soak in the energy of the city without spending a dime.
Tip: Visit the Whispering Gallery, located in front of the Oyster Bar & Restaurant. Here, you and a friend can experience an acoustic wonder. Stand at diagonal corners, whisper into the arched walls, and your voices will carry to each other perfectly. It's an intriguing and free activity that highlights the architectural marvel of Grand Central Terminal.
Address: 89 E 42nd St, New York, NY 10017, United States
8. Free Outdoor Movies
Several parks and public spaces in the city offer free outdoor movie screenings during the summer months. Bring a blanket, and some snacks, and enjoy a movie under the stars.
Many organizations and community groups that host free outdoor movie nights in New York have active social media accounts and email lists. Follow or subscribe to these channels to receive updates and event announcements.
Bryant Park often hosts a summer movie series on the lawn.
Tip: Keep an eye on local event listings and community boards. Websites like Time Out New York and NYC Parks often publish schedules for free outdoor movie screenings.
Address: Bryant Park, New York, NY 10018
9. Hiking in the Staten Island Greenbelt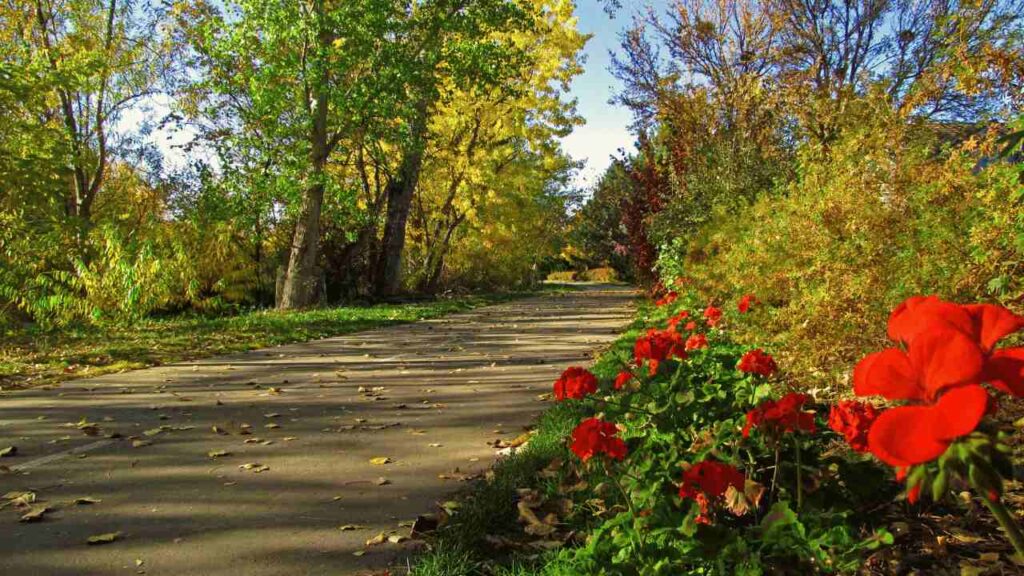 Escape the hustle and bustle of the city by hiking in the Staten Island Greenbelt. This vast natural area boasts hiking trails, serene forests, and tranquil lakes.
Tip: you can use popular hiking apps like AllTrails or Hiking Project to find detailed trail information and maps, often with user reviews and photos.
Address: Greenbelt Nature Center, 700 Rockland Ave, Staten Island, NY 10306, United States.
10. NYC Free Museum Days
In New York, many museums offer free admission on specific days or during certain hours, making it a great opportunity to explore the city's rich cultural heritage without breaking the bank.
Tip: Many museums, like the Museum of Modern Art (MoMA) and the Guggenheim, offer free hours or days, which may vary by season. Knowing when and where you can access free entry will help you make the most of your visit.
Address: 1000 5th Ave, New York, NY 10028
11. Exploring Street Art in Bushwick
Bushwick in Brooklyn is renowned for its vibrant street art scene. Take a walking tour to admire the colorful murals and graffiti that adorn the neighborhood's buildings.
Tip: Start at the Jefferson Street subway station and wander through the neighborhood's streets. Keep an eye out for murals on buildings and hidden art in alleys. You'll stumble upon some incredible works by both local and international artists.
Address: Jefferson Street Subway Station, 333 Jefferson St, Brooklyn, NY 11237, United States.
12. Visiting Governors Island
Governors Island, accessible by a short ferry ride, is a hidden gem offering art installations, historic sites, and beautiful views of the city. The island frequently hosts free events and activities.
Tip: Bring your food and have a picnic in the vast open spaces, like Picnic Point. It's a great way to enjoy the scenic views of the Statue of Liberty and the Manhattan skyline.
Address: Battery Maritime Building, 10 South St, New York, NY 10004, United States.
13. Free Concerts in the Park
During the summer, many parks host free concerts featuring a variety of musical genres. It's a great way to enjoy live music in an open-air setting. Search for free park concerts on websites like NYC Parks, Time Out New York, and local event platforms. They often provide schedules and details for upcoming performances.
Tip: Bring essentials like sunscreen, water, snacks, and insect repellent. Additionally, check the park's rules on outside food and alcoholic beverages.
Address: Bryant Park in Midtown Manhattan sometimes hosts free concerts at the Bryant Park Stage.
14. The New York Public Library
The iconic New York Public Library offers more than just books. It's a cultural landmark with stunning architecture and often hosts free events and exhibitions. The NYPL hosts a variety of free events and programs, such as author talks, workshops, and exhibitions.
Tip: Ask the library staff for recommendations on hidden gems, rare books, or special collections that align with your interests.
Address: New York Public Library – Stephen A. Schwarzman Building, Fifth Avenue at 42nd Street, New York, NY 10018, United States.
15. Chelsea Market
Chelsea Market is known for its diverse food vendors. Take advantage of the free samples available at many of the food stalls. You can try a variety of delicious treats without spending a dime.
Tip: Chelsea Market is a bustling hub with a diverse crowd. Find a comfortable spot, like the seating area near the fountain, and indulge in some people-watching.
Address: Chelsea Market, 75 9th Avenue (between 15th and 16th Streets), New York, NY 10011, United States.
16. Riverside Park
Take a walk or bike ride in Riverside Park along the Hudson River. It offers scenic views, playgrounds, and green spaces.
Tip: To enhance your experience, consider packing a picnic and enjoying a meal by the river, taking in the refreshing breeze and the stunning views of the water.
Address: Riverside Park, Riverside Dr, New York, NY 10027, United States.
17. Street Performers in Washington Square Park
Enjoy the eclectic mix of street performers and musicians at Washington Square Park in Greenwich Village.
Tip: Be sure to bring some cash to show your appreciation for the talented performers who bring this park to life with their music and artistry.
Address: Washington Square Park, New York, NY 10012, United States.
18. Brooklyn Botanic Garden
The Brooklyn Botanic Garden offers free admission on weekdays in the winter months and several free days throughout the year. Explore the beautiful flora and themed gardens.
Tip: Check the garden's official website for information on the specific days when free admission is available. Don't miss the stunning cherry blossoms in the spring.
Address: Brooklyn Botanic Garden, 990 Washington Ave, Brooklyn, NY 11225, United States.
19. The Cloisters
Visit The Cloisters, a branch of the Metropolitan Museum of Art dedicated to medieval art and architecture, located in Fort Tryon Park. It offers a suggested admission fee, but you can contribute what you wish.
Tip: Take your time to explore the tranquil gardens and stunning medieval art collections. The Cloisters offer a peaceful escape from the city's hustle and bustle.
Address: The Cloisters, 99 Margaret Corbin Dr, New York, NY 10040, United States.
20. Public Art Installations
Keep an eye out for public art installations and sculptures throughout the city. Art can often be found in unexpected places.
Tip: Share your discoveries on social media using the city's official hashtags to connect with fellow art enthusiasts and discover even more hidden gems.
Address: Various locations throughout New York City.
21. Prospect Park
Head to Brooklyn's Prospect Park for a nature-filled experience with walking trails, a lake, and the Prospect Park Zoo.
Tip: Consider renting a paddleboat at the Audubon Center, and glide peacefully across the lake, surrounded by lush greenery and diverse birdlife.
Address: Prospect Park, Brooklyn, NY 11225, United States.
22. The Bronx Museum of the Arts
This museum in the Bronx offers free admission to its exhibitions and collections.
Tip: Be sure to explore the vibrant surrounding neighborhood, which is known for its vibrant street art and cultural diversity.
Address: The Bronx Museum of the Arts, 1040 Grand Concourse, Bronx, NY 10456, United States.
Remember that New York City is full of surprises, and exploring its neighborhoods can lead to hidden gems, vibrant street art, and unique cultural experiences. Be sure to check for any updated information and seasonal events before planning your visit.
Conclusion
New York City is a treasure trove of free experiences waiting to be explored. From the lush landscapes of Central Park to the historical significance of the 9/11 Memorial, the city offers something for everyone. You don't need to break the bank to have a memorable time in the Big Apple.
Frequently Asked Questions – Free Things to Do Near Me, New York
Where can I find free live music performances in New York?
You can catch free live music performances at various spots in the city. Check out outdoor concerts in Central Park, the Lincoln Center's "Out of Doors" series, and the SummerStage festival, which features a wide range of musical genres.
What are some free attractions in New York City?
New York City offers a plethora of free attractions. Some popular options include Central Park, Times Square, the High Line, and the Staten Island Ferry. Additionally, many museums have free admission days, so it's worth checking their schedules.
What free things to do Near me?
You can explore Central Park, visit the Met Museum during free hours, and enjoy a stroll on the Brooklyn Bridge—all for free in New York City.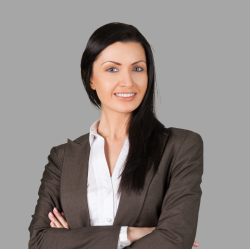 Latest posts by Dollar Catalyst
(see all)